National Coaches' Week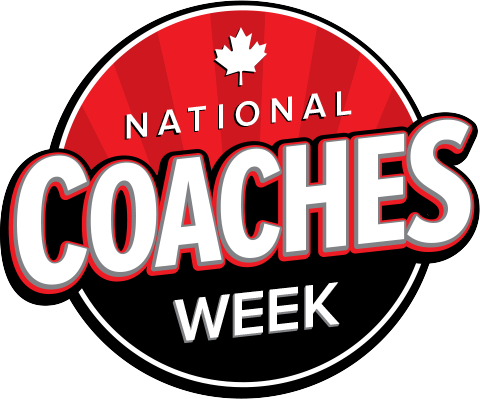 Coaching is an amazing call of service. Our leadership team shared the following thoughts this week in honour of their coaches:
"We would like to take the time to thank our coaches for National Coaches' Week. Coach Bummer, Coach Terry, Coach Rob and Coach Kennedy, we can't thank you enough for always pushing us to be our best and always believing in us.
We would like to thank all the coaches that have helped us through our journey of becoming better players and better people.
We truly appreciate the endless dedication and countless hours. Know that it never goes unnoticed."
#thankscoach!
The Season is Underway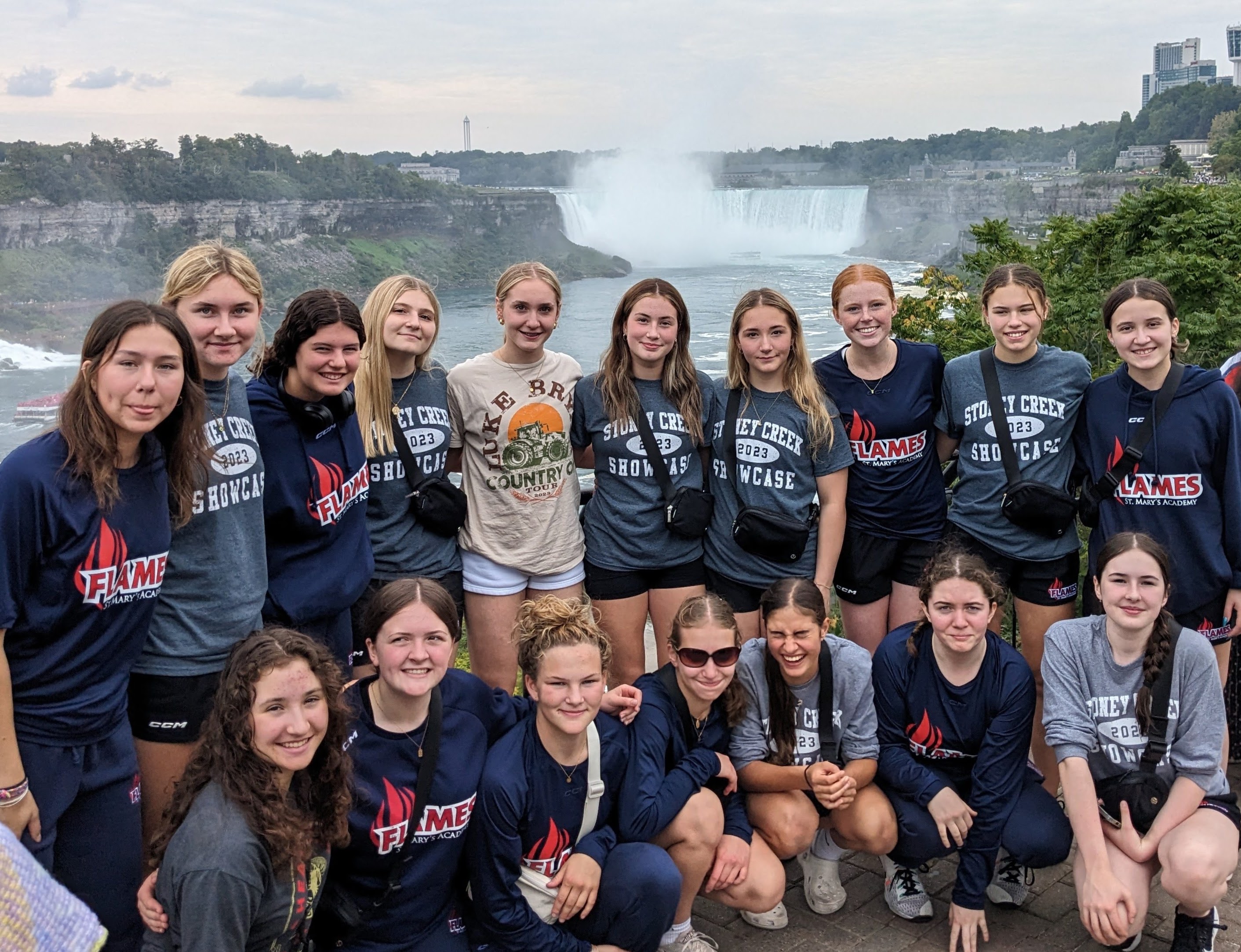 The Flames Prep hockey team recently competed in the Stoney Creek Tournament. Beginning the weekend with a win, and holding opposing teams to tightly contested final scores, this young team showed that they have the core abilities to grow and become stronger as the year proceeds.
After a weekend of intense competition, the team was able to relax for a few hours and take in the sights at Niagara Falls before heading back home and back to school.
Holding High The Torch
Congratulations going out to our SMA Alumna, Christine Bumstead, who has earned a spot on the coaching staff of the Saskatoon Blades. Christine continues to carve out new paths in her multifaceted career as a teacher, an assistant coach with the University of Saskatchewan Huskies, and now a performance coach with the Blades for the 23-24 season. Christine is also a recent graduate of the NHL Coaches Association's Female Mentorship Program. For the full story on her newest adventures, check out this Global News story : https://globalnews.ca/news/9975710/huskies-coach-bumstead-historic-role-blades/ 
Training Camp is on!

The team is busy with training camp under way all August.
Everyone is finding their rhythm as they return to the ice, focus on personal fitness goals and develop team unity.
A return to school is just around the corner!
Introducing our 23-24 Leadership Team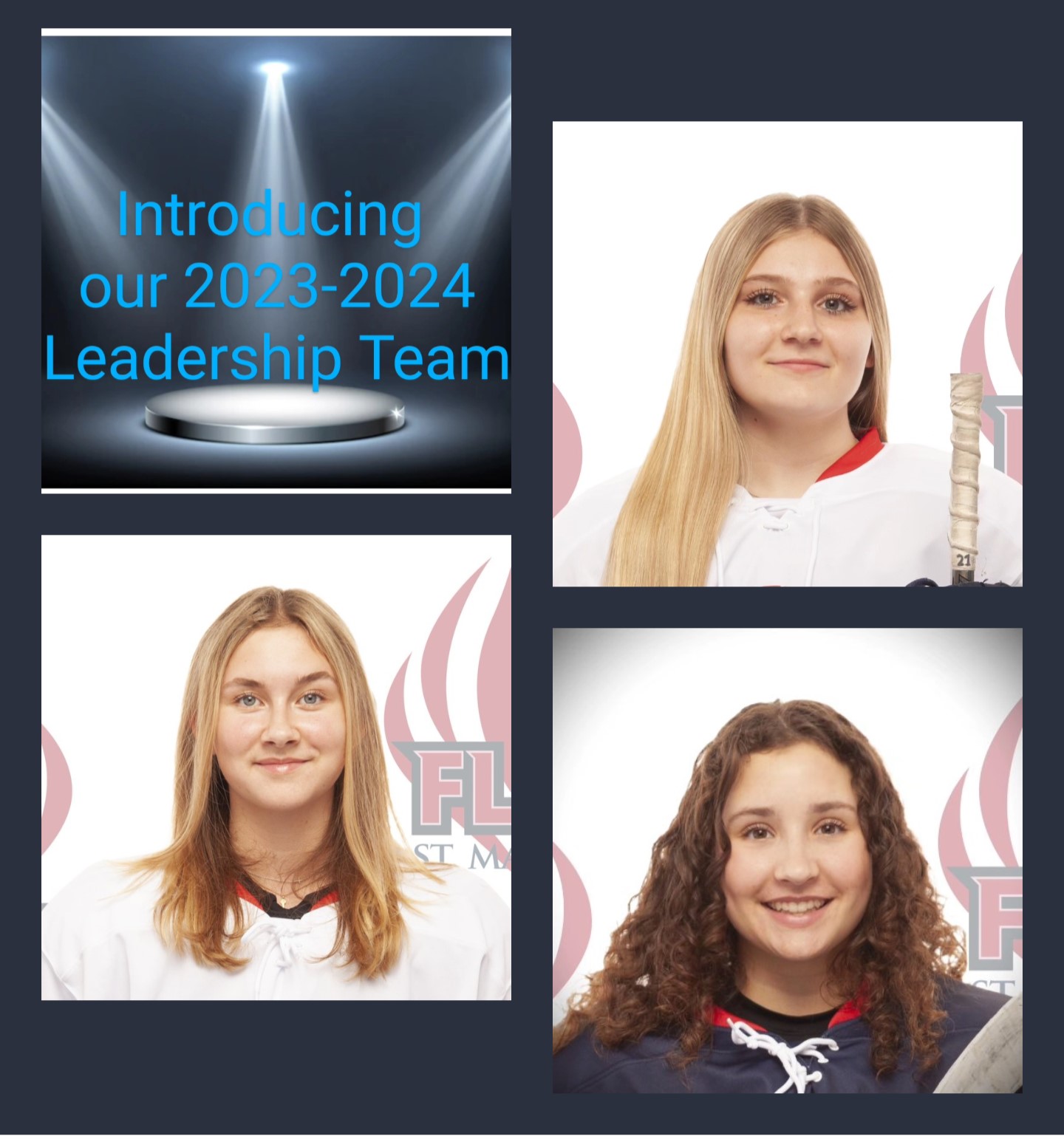 Our leadership team for the coming year:
Captain: Mia Faseruk
Assistant: Chiara Wilson
Assistant: Addison Kartusch
These team leaders have been planning intentionally for regular team building activities, and are looking forward to leading by example and working together with their teammates, coaches, and teachers toward a positive year.
Leading by example for growth and a sense of team unity. Bravo!
2023 Summer News
Our Flames members have been busy over the summer, with pursuits in multiple athletic endeavours. It takes a special dedication to excel in one sport, let alone more than one sport. Here is round up of some very busy team members: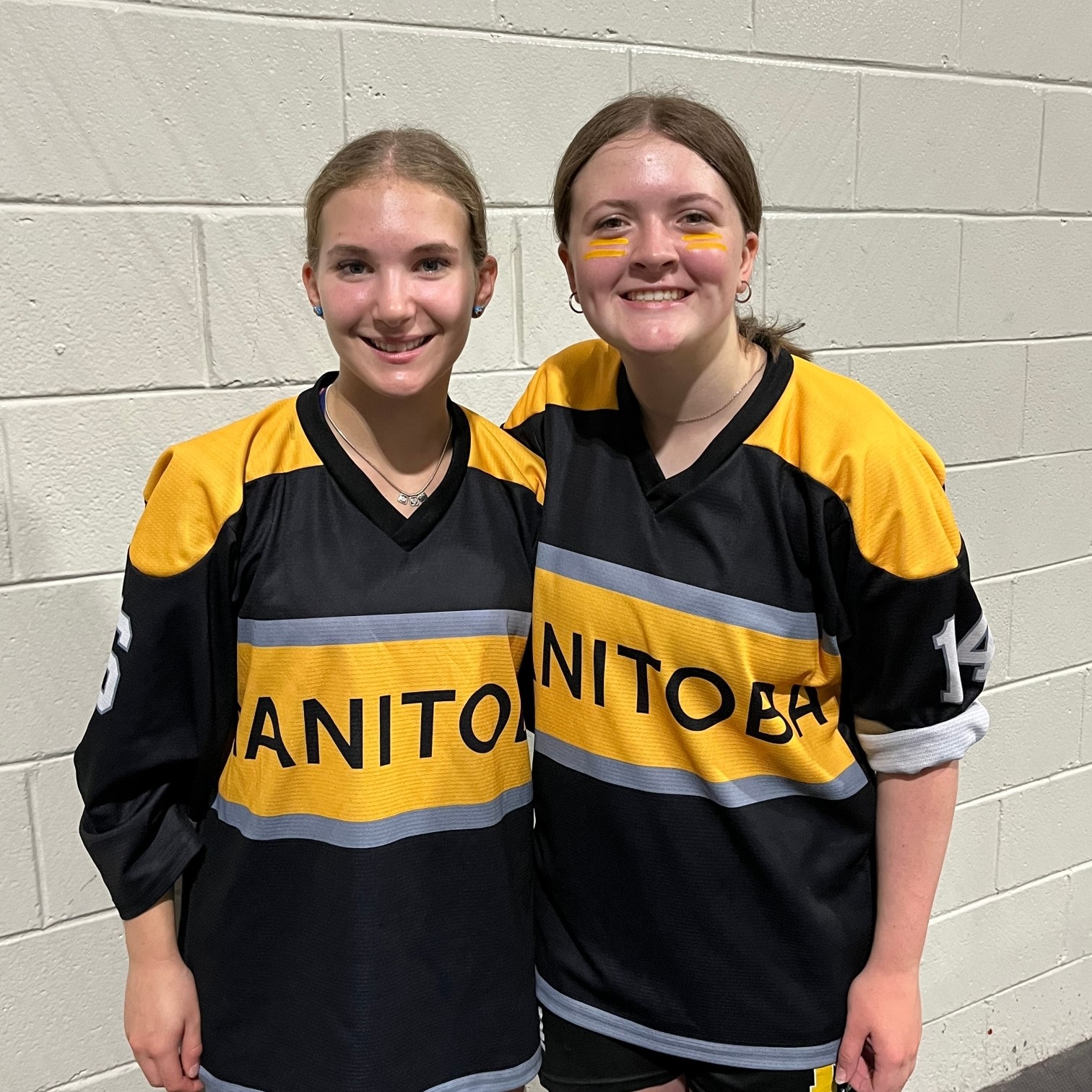 Second year, Maggie Nicol, and incoming AP, Joanna Braun, represented Manitoba in St Johns, Newfoundland this summer at the Canadian Ball Hockey Championships.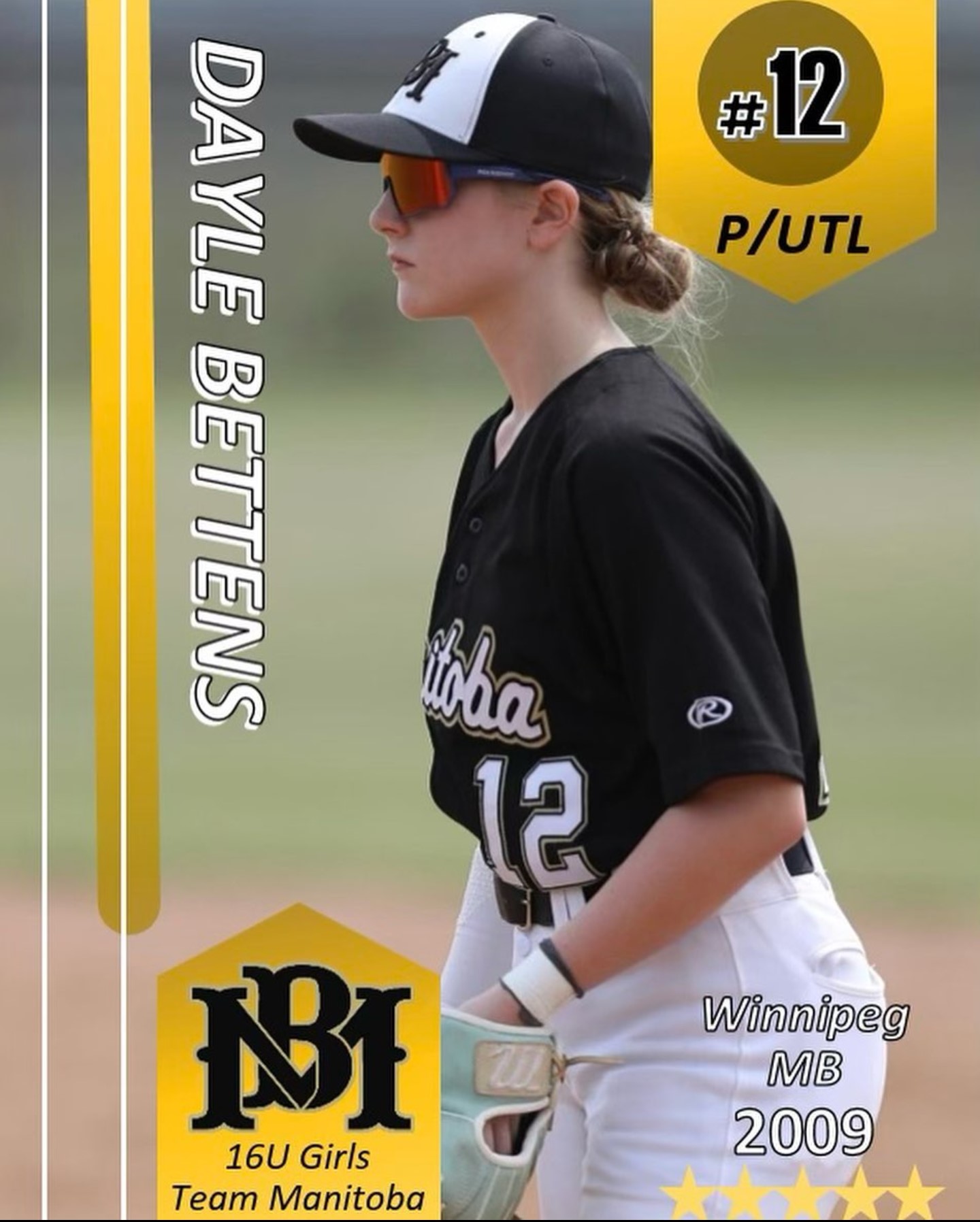 Incoming AP, Dayle Bettens, represented Manitoba at the U14 Westerns in Richmond, BC (where she attained second in the Home Run Derby) and also represented at the Nationals on the U16 team in Prince Edward Island. That's a busy summer!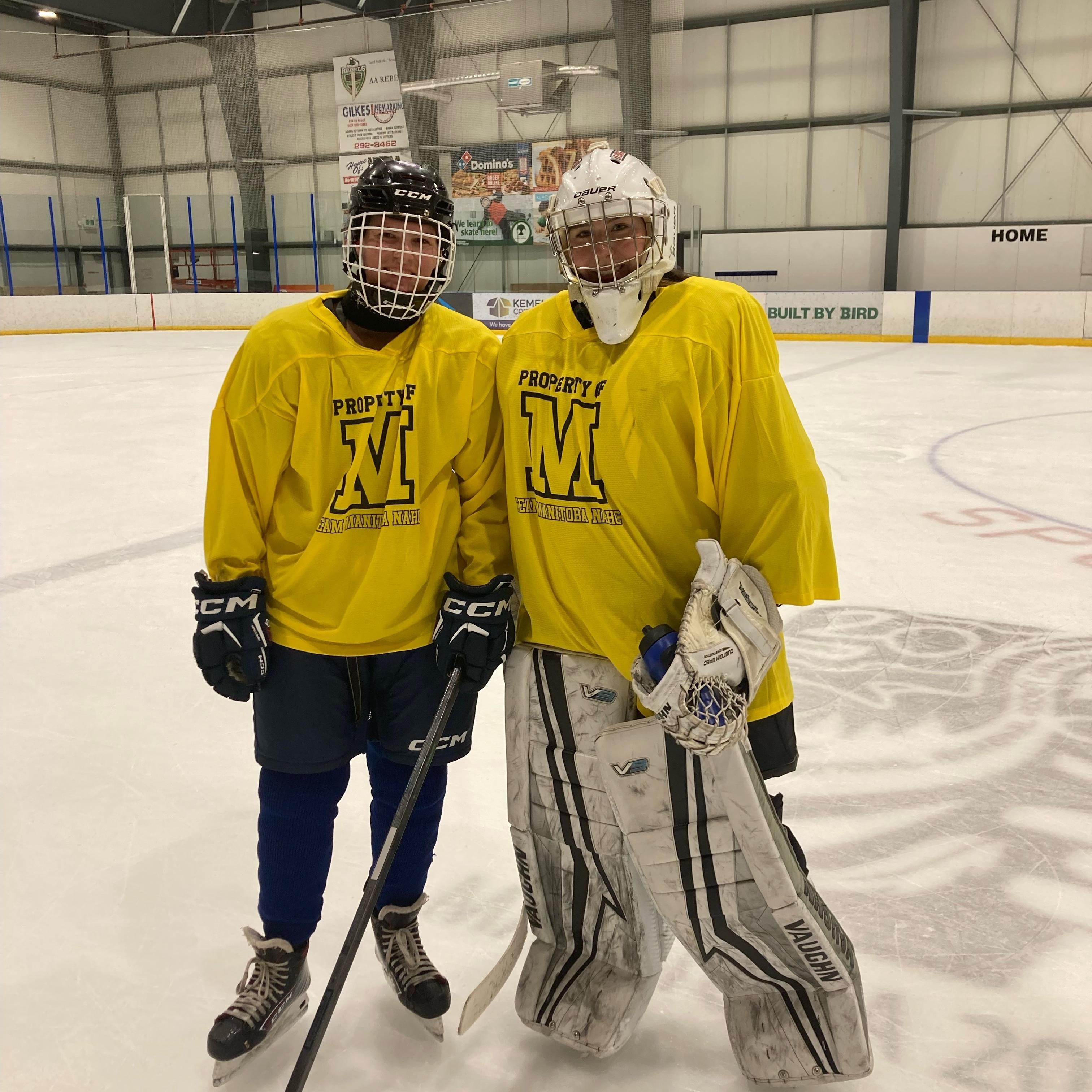 Second year player, Kiki Robinson-Prefontaine, and incoming player, Jade Pelland, (last year's AP) were at the Manitoba ID camp for the 2024 Aboriginal Hockey Championship.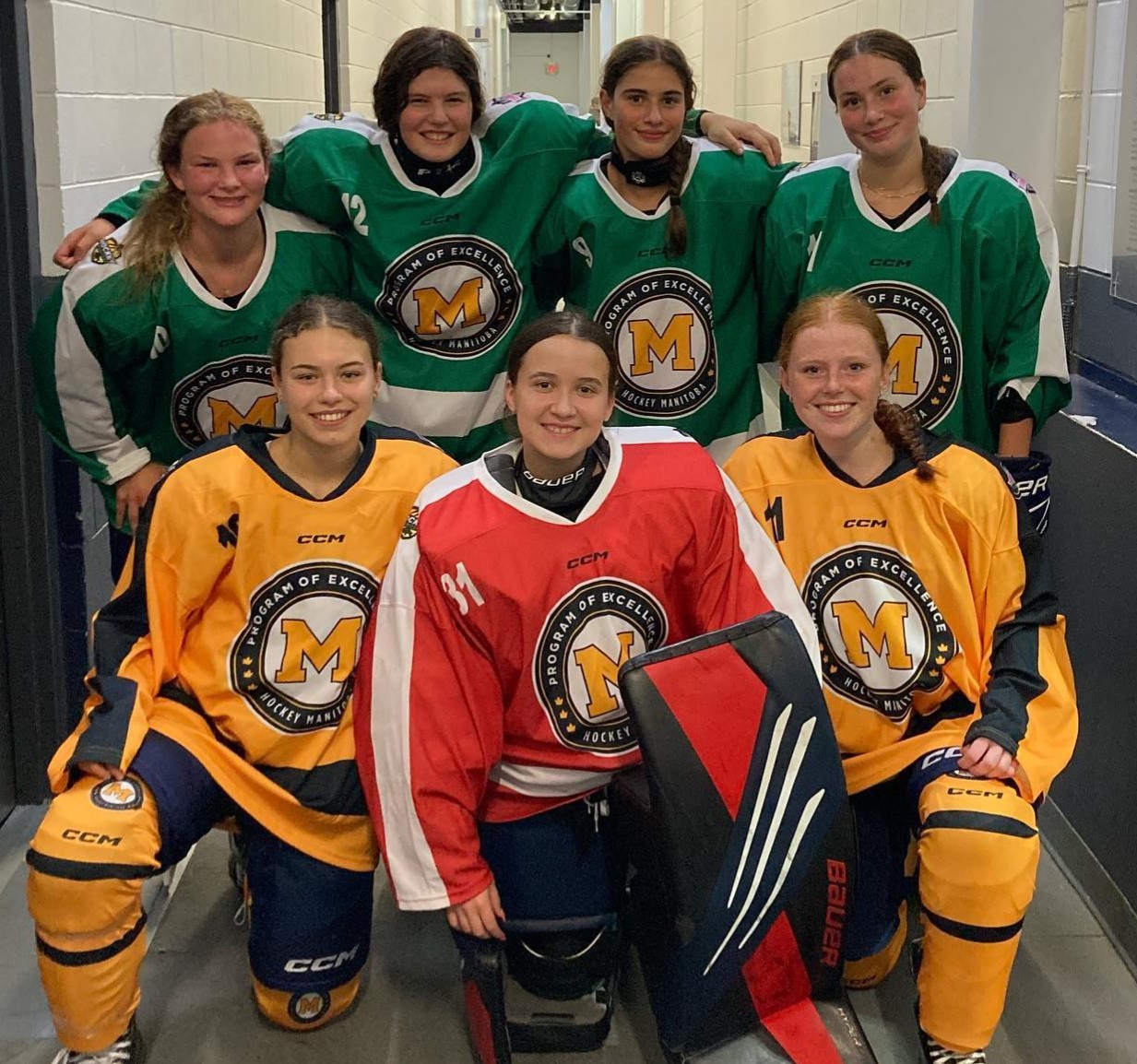 Our "young guns", as we affectionately call them, gave it their all at the Hockey Manitoba U16 Pursuit of Excellence camp weekend.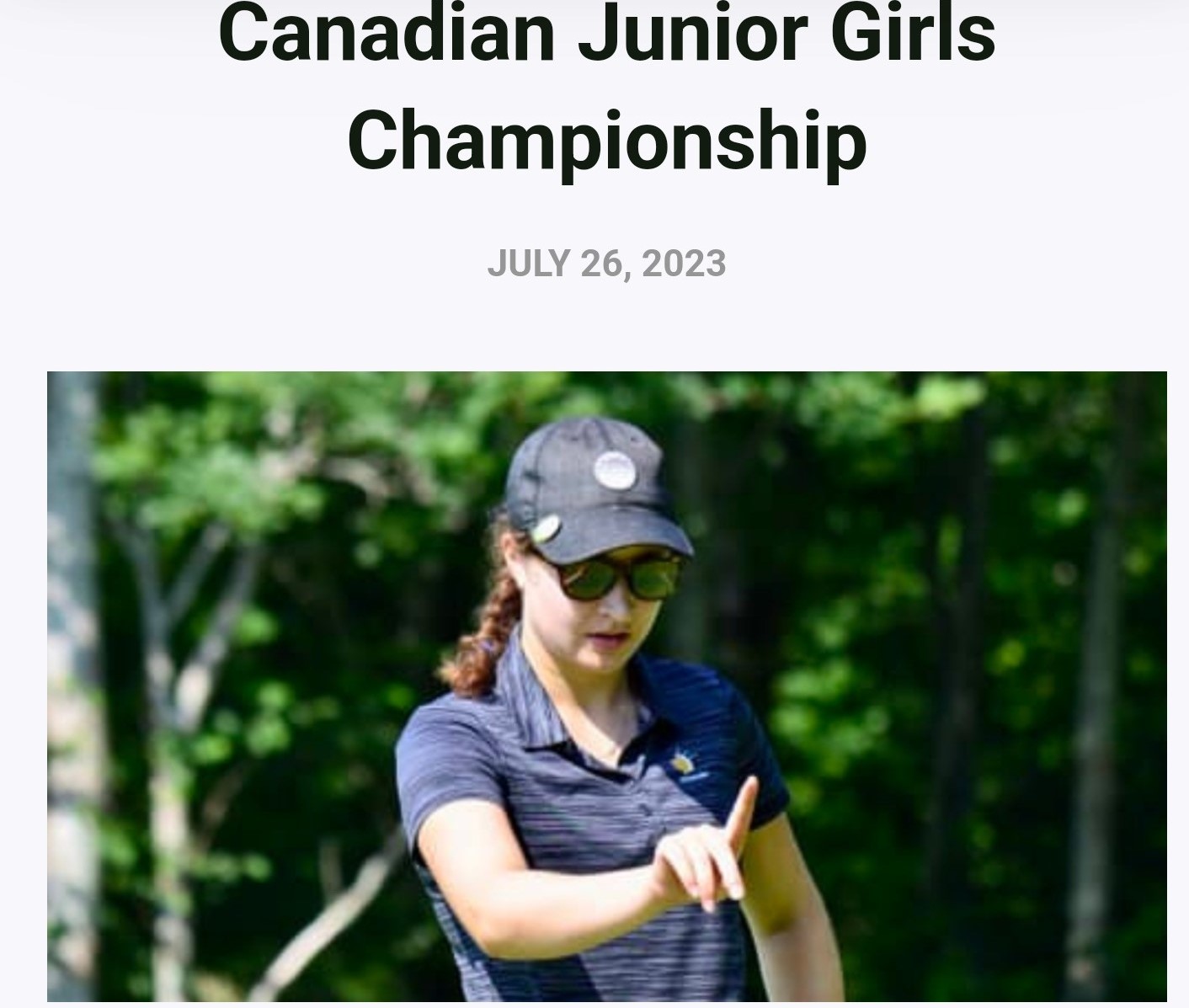 Addison Kartusch, a member of our leadership group for the coming season, competed in the Canadian Junior Girls' Golf championship in New Brunswick.
July 2023 Congratulations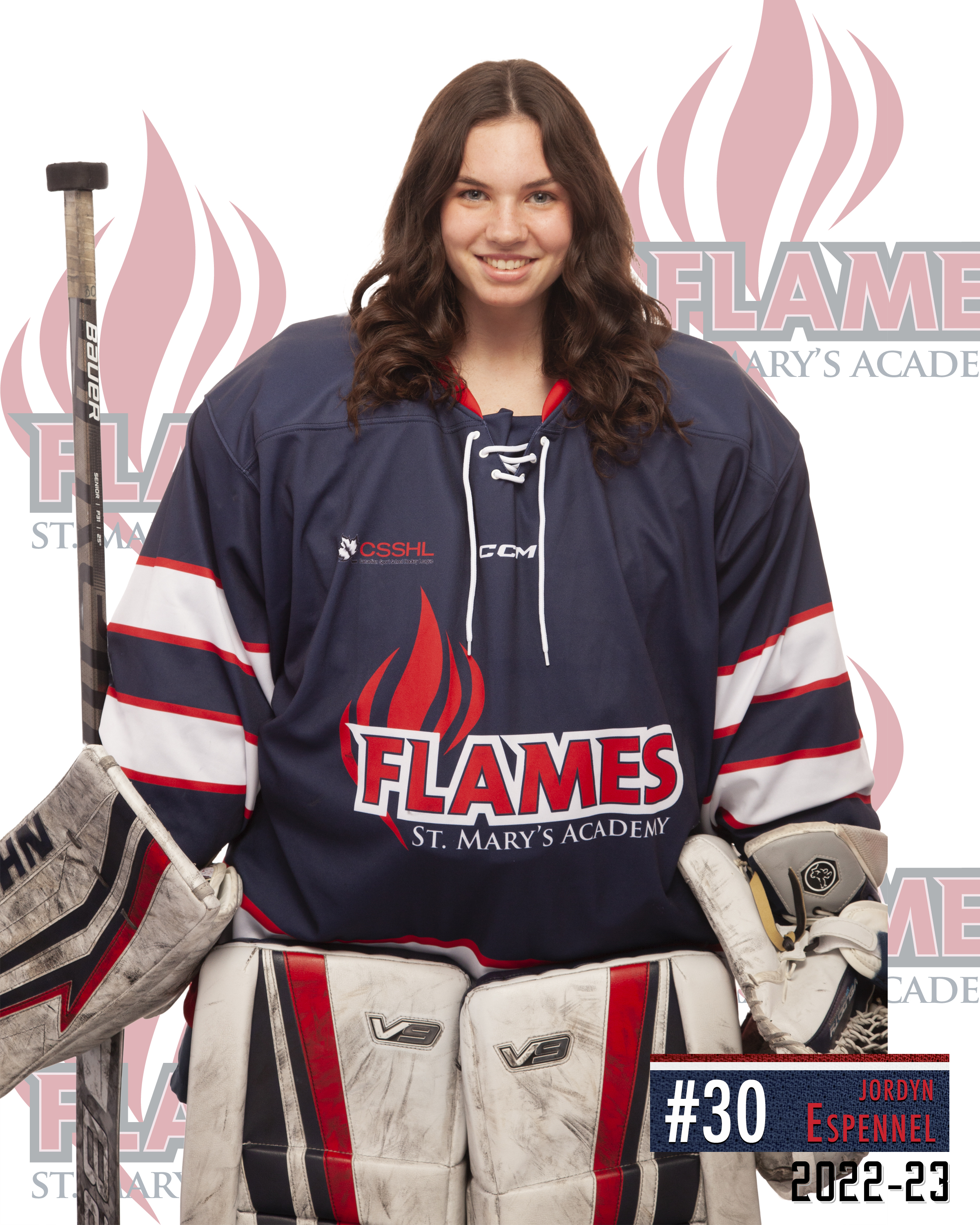 The SMA Flames are proud of our own Jordyn Espenell, #30 who was awarded a top scholar award by the CSSHL.
Jordyn has truly demonstrated the ability to balance intensive studies with dedication to pursuing athletics at an elite level.
Jordyn also received the Governor General's medal for highest academic honours in her graduating class and was valedictorian at the graduation ceremonies held in June.
June 2023 Post-Secondary Commitments
Congratulations to the following graduating players on their commitments as they begin their post-secondary journey: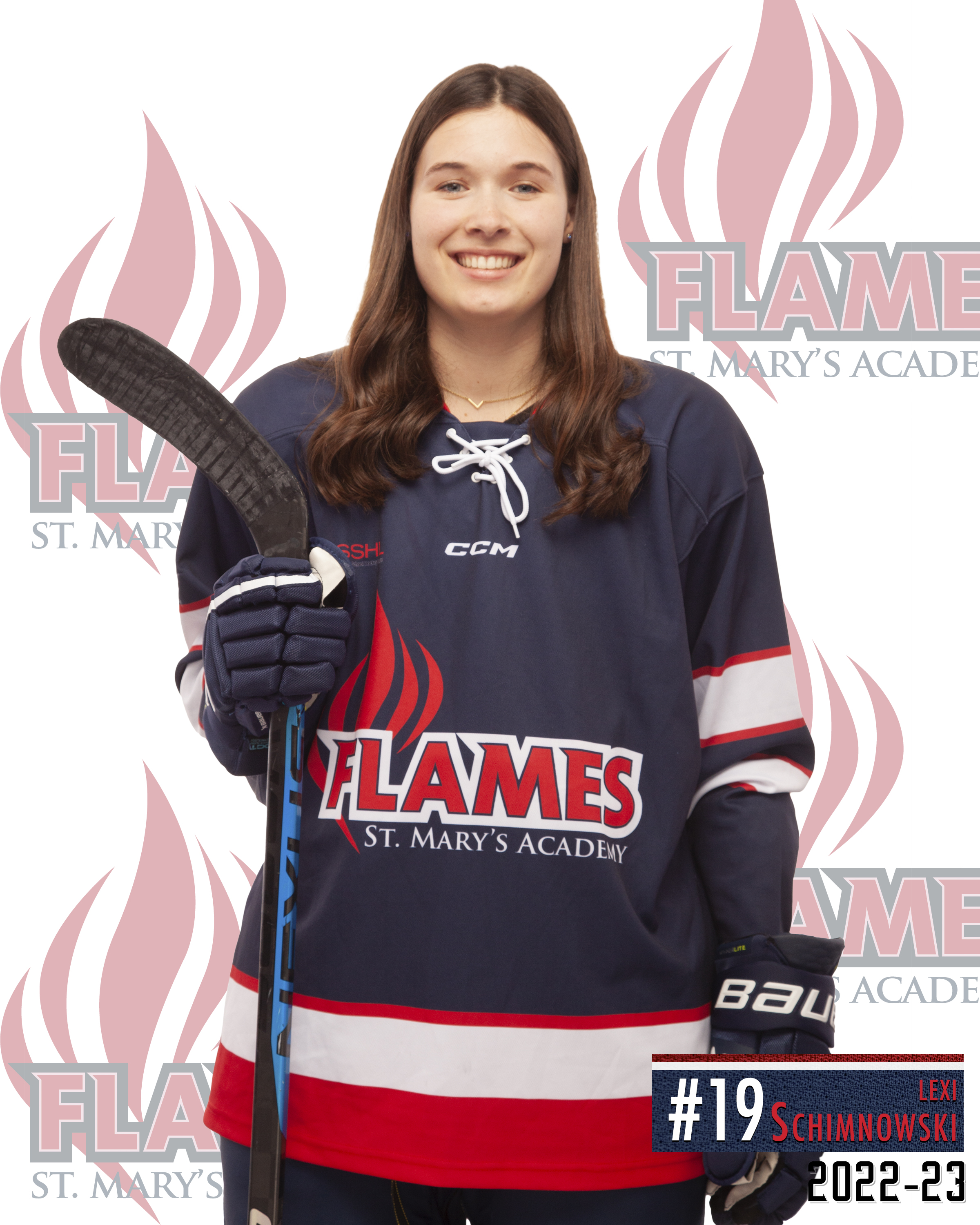 Lexi Schimnowski, #19, has committed to Mount Allison University for the 23-24 season.
Lexi will start her post-secondary journey at the U-Sport level as a member of the Mounties while beginning her studies on the next steps of her academic pursuits.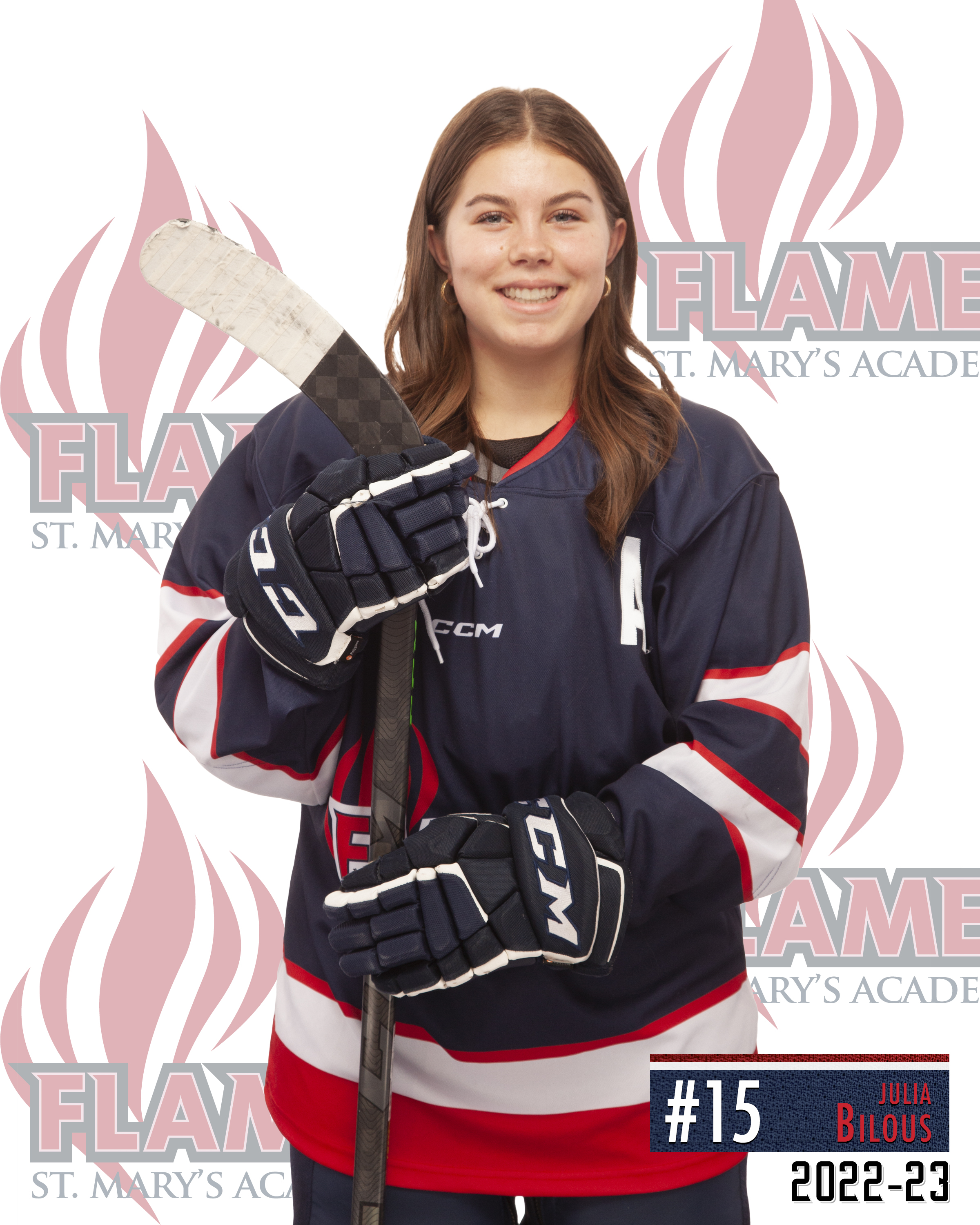 Julia Bilous, #15, has committed to the University of Manitoba for the 23-24 season.
Julia will be entering the faculty of science while playing for the Bisons at the U-Sport level.
Julia is also the recipient of a CSSHL scholarship that will go towards her post-secondary education.
March, 2023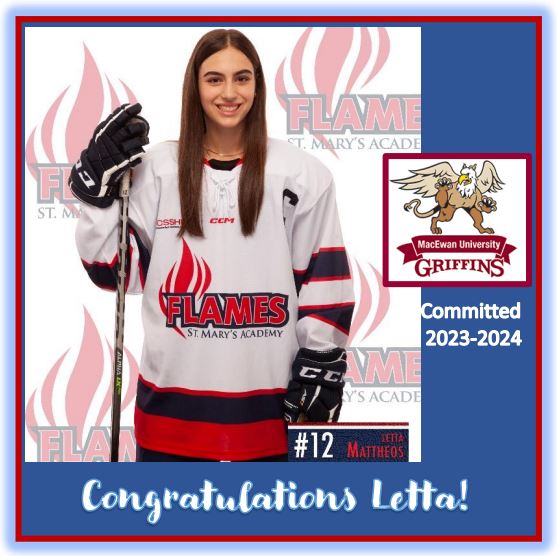 Congratulations to Letta Mattheos, #12, who has committed to MacEwan University in Edmonton for the 2023-2024 season.
Letta will start her post-secondary journey at the U – Sport level as a member of the MacEwan Griffins while following her academic dreams for her future.
Hold High The Torch!
Playoffs are here!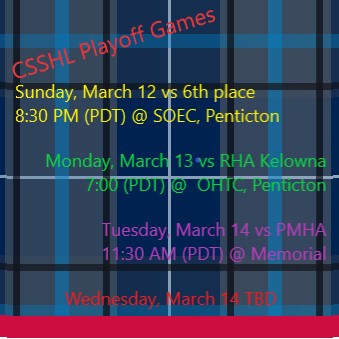 Our prep Flames team is heading off to Penticton, BC later this week.
The CSSHL playoffs for the Female U18 division take place from March 12 – 17, 2023.
Check out our schedule…stay tuned via our social media accounts:
Instagram: smaflamesprep
Twitter: @SMAFlames
The Life of Student Athletes 
We are finished our regular season games, but that doesn't mean we aren't busy!
The life of a student athlete is never an simple life…it is complex, requiring an ability to balance multiple tasks, and juggle many commitments. Our team members face a rigorous academic reality as members of our St. Mary's Academy school community. The players on our team are in classes from 8:30 – 3:30 every day. All training and practice times occur outside of a regular school day.
The students' commitment to excelling in their studies in the classroom and their commitment to growing as a team on the ice is to be admired, honoured and celebrated.
Student athletes are faced with many challenges. Our team has recently experienced two, back-to-back weekend road trips (out of province) while in the final "crunch" of a reporting term. With many assessments, projects and ongoing homework a consistent expectation, they have responded admirably to the challenge of meeting their goals.
Our team members do, indeed, "Hold High the Torch" with integrity, perseverance and dedication!!!
February, 2023
Thanks to all our parent, school and community volunteers who made our FWSSC tournament a great success. Without their incredible efforts, the tournament would not as smoothly as it does. Our appreciation also goes out to our sponsors who supported the event in many ways.
Sixteen teams participated over the course of four days, with the medal games played on Sunday.  It was fantastic to watch the level of competitive play…such a great showcase for women's hockey. Congratulations going out to the medalling teams:
Calgary Fire AAA : Gold Medalists
South Alberta Hockey Academy (SAHA): Silver medalists
North Alberta Extreme (NAX): Bronze medalists
On Saturday, the teams were able to enjoy a dinner banquet together, and had the opportunity to hear Kristin Campbell (Team Canada) share her hockey journey, the unexpected twists and turns along the way and words of wisdom on remaining focussed on finding a way forward. All-Star player awards were awarded
Game photos are available for viewing and can be downloaded at http://www.fwssc.ca
And…we are heading into the final leg of our season.
February 9 – 12 we are in Delta, BC for a CSSHL league weekend.
February 16-19 we are on a three game flex swing roundup in Edmonton, Calgary and Medicine Hat
March 12-16 we wrap up our season with the CSSHL playoffs in Penticton, BC
January, 2023
A new year brings the start of our final half of the year.
We are excited to be hosting the Female World Sports School Challenge from  January 26 – 29 at the hockey for all centre in Winnipeg.
Join us as we welcome 16 elite U18 women's hockey teams from across Canada for this showcase event.
Please visit the tournament website for the full schedule, team rosters and ticket information: http://www.fwssc.ca
December, 2022

Congratulations to Charlotte Buffie, #7, who has committed to St. Mary's University in Halifax for the 2023-2024 season.
Charlotte will start her post-secondary journey at the U – Sport level as a contributing member of the SMU Huskies team while following her academic dreams for her future.
Hold High The Torch!
November 15, 2022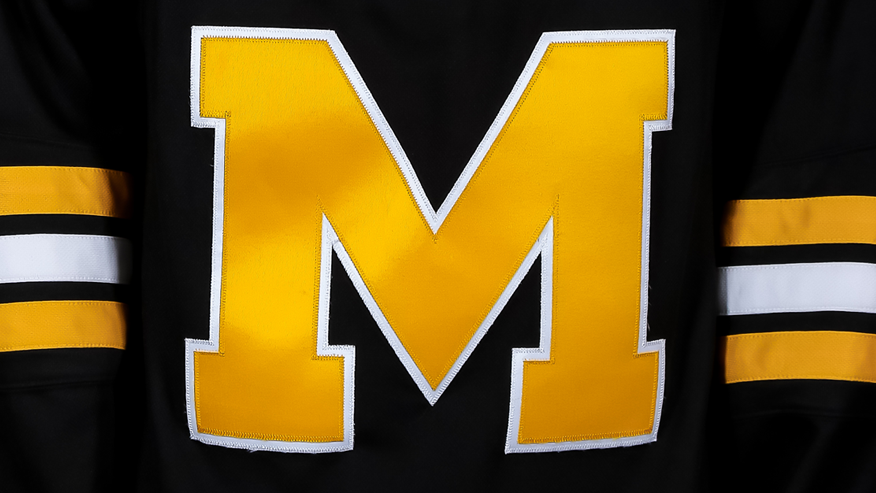 Congratulations to Flames Prep team member Charlotte Buffie, #7, who has been selected to be a team member of U-18 Team Manitoba.
Join us in wishing Charlotte well as the provincial team prepares to compete in the Canada Game in PEI in late February, 2023. Holding High the Torch!
November, 2022: Balancing a Busy Schedule.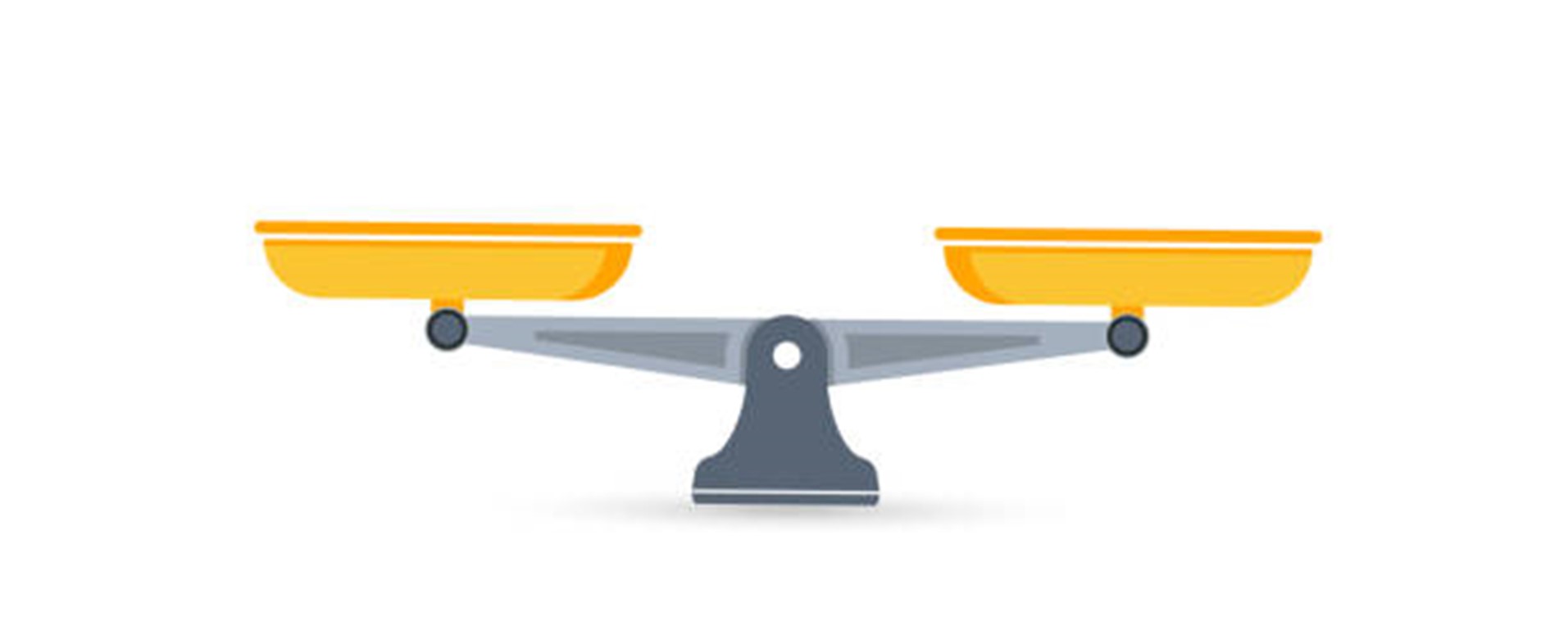 The life of our student athletes is an incredibly busy one. With amazing perseverance and resilience, they consistently work to balance the demands of a full-time, challenging academic program at St. Mary's  Academy, while training for and participating at a highly competitive level of hockey in the western division of the CSSHL. 
Along with their scholastic endeavours, and their on and off-ice training, they are also balancing a series of educational seminars with the league and committing to weekly check-ins for their overall well-being.
Balancing these day-to-day realities is a testament to our student athletes. They recognize and honour the value of their educational growth, the work they do for each other as a teammate, and value of self-care as they grow and also prepare for their post-secondary journeys.
Kudos to all our team members; they are an amazing group of student athletes and we are so proud of them!
September 2022: Congratulations!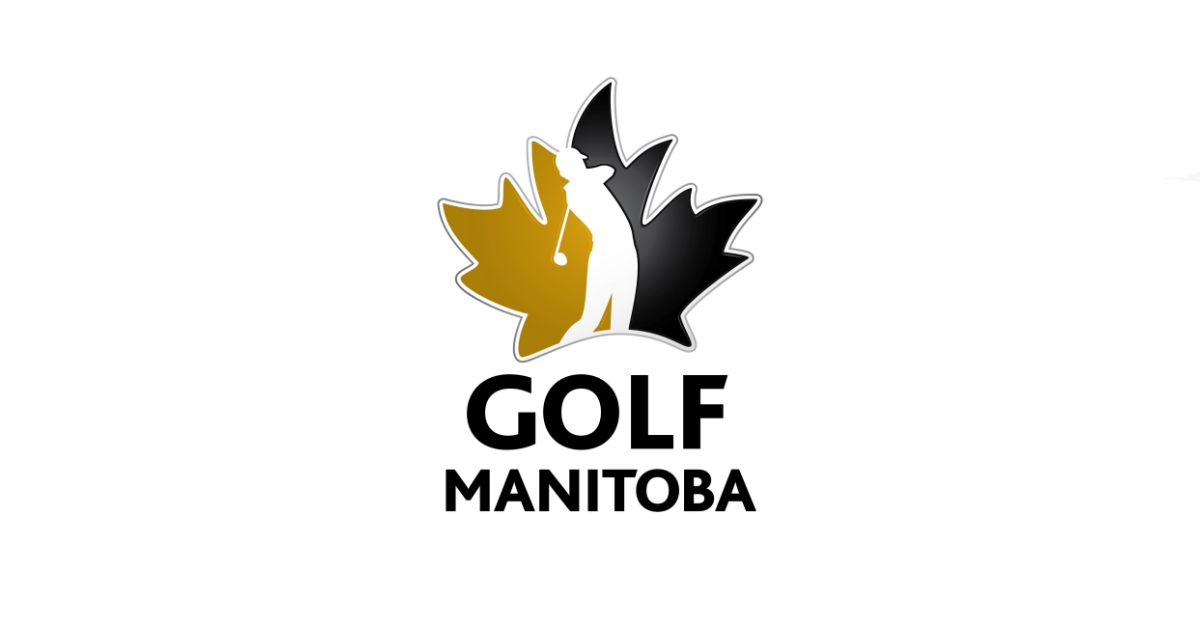 The Flames are very proud that our own Addison Kartusch, #22, has been invited to the Team Canada Junior Squad Selection Camp in Toronto.
Addison is eagerly anticipating the opportunity to participate in the camp in early September.
An incredible start to the school year for Addison…balancing "back to the books" with the off-ice learning opportunity this will provide to her.
Holding High the Torch!
August 2022
Our SMA Prep Flames are back on the ice after a well-deserved summer break.
Training camp is now underway before school begins and we are all back to a full school day, managing a demanding academic schedule alongside our commitment to the game we love to play… Exciting times are ahead!
Between workouts, player assessments, training, skills, drills, and constant teamwork, the players and coaches are eagerly preparing for the next season.
Our season will kick off in early September as the Flames Prep team travels to participate in the Stoney Creek Tournament.
Our first road trip for CSSHL league games will be to Penticton, BC at the end of September.
Stay tuned for updates, news, games results and more!
July 2022
Just hockey players?
?? Think again – congratulations to our Addison Kartusch
as she wins the Junior Girls Championship in … golf!
https://www.golfmb.ca/articles/kuntz-kartusch-win-junior-boys-girls-championships-
presented-by-the-alex-peggy-colonello-foundation-at-st-charles-country-club/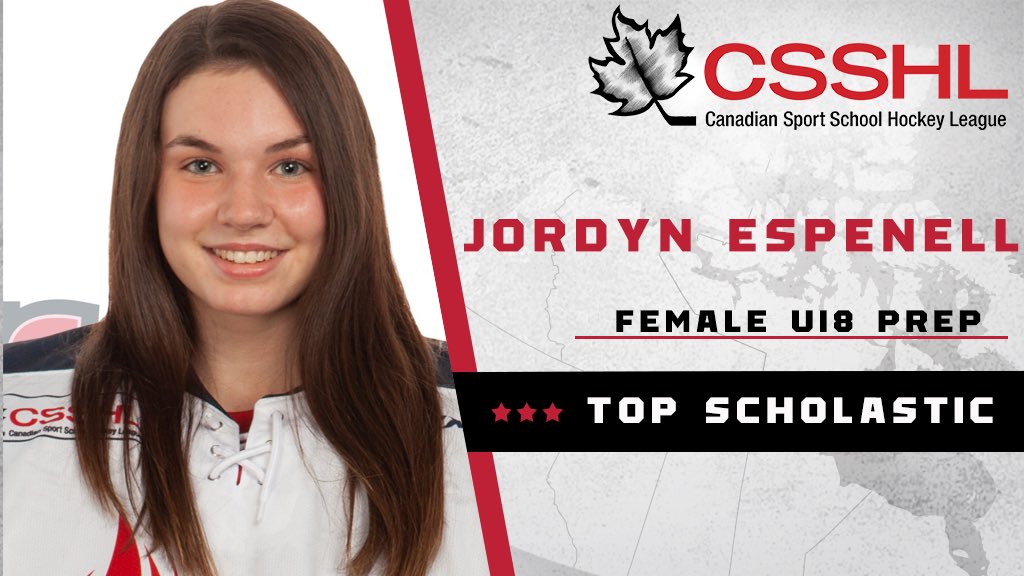 Congratulations go out to Jordyn Espenell, named to the Female U18 Prep Division All-Academic Team…and named the top Scholastic Athlete by the CSSHL!

Our Flames are on Fire!!! Congratulations to all our players named to this year's Team Manitoba Hockey Camps!
Pursuit of Excellence Camps for U18 Top 40:
Jordyn Espenell
Julia Bilous
Charlotte Buffie
Hannah Dennehy
Mia Faseruk
U16 Development Roster:
Hannah Arnold
Julianna de Groot
Abigail Brigg
Maddie Kaiser
June 2022
We recently celebrated the 2021-2022 season at our final banquet. And what a season it was…beginning with a bit of uncertainty with the pandemic realities facing the world, then proceeding into an active league season with heightened safety protocols, and the journey to playoffs. It was truly a joy to be able to play the game we all love with passion and, all the while, manage our studies and diligence to education.
Special thanks to our graduating leadership team: Presleigh, Tyla and Reese, who led by example both on and off the ice. Pictured here with coaching staff: Larry, Rob and Natasha. Wishing you the best in your continuing adventures as you move onto your post-secondary commitments. Hold High the Torch!
Looking forward to the summer ahead, and a return to the blades on the ice at August training camp!

May 2022
Our Female World Sports School Challenge wrapped up on May 1st. Congratulations to all 12 teams who competed at the tournament.
A huge thank-you to all the volunteers who help to make this event happen.
The medal winning teams are:
Gold: Stanstead College Spartans
Silver: Rink Hockey Academy Kelowna
Bronze: Balmoral Hall Blazers
For more details, game results, and game photos please visit the FWSSC website at http://www.fwssc.ca
April 2022

Congratulations to Presleigh Giesbrecht (#6) who has signed with Post University in Connecticut.
Presleigh will play for the Post Eagles NCAA Div 1 Hockey program in the 2022-2023 season.
Way to Hold High the Torch!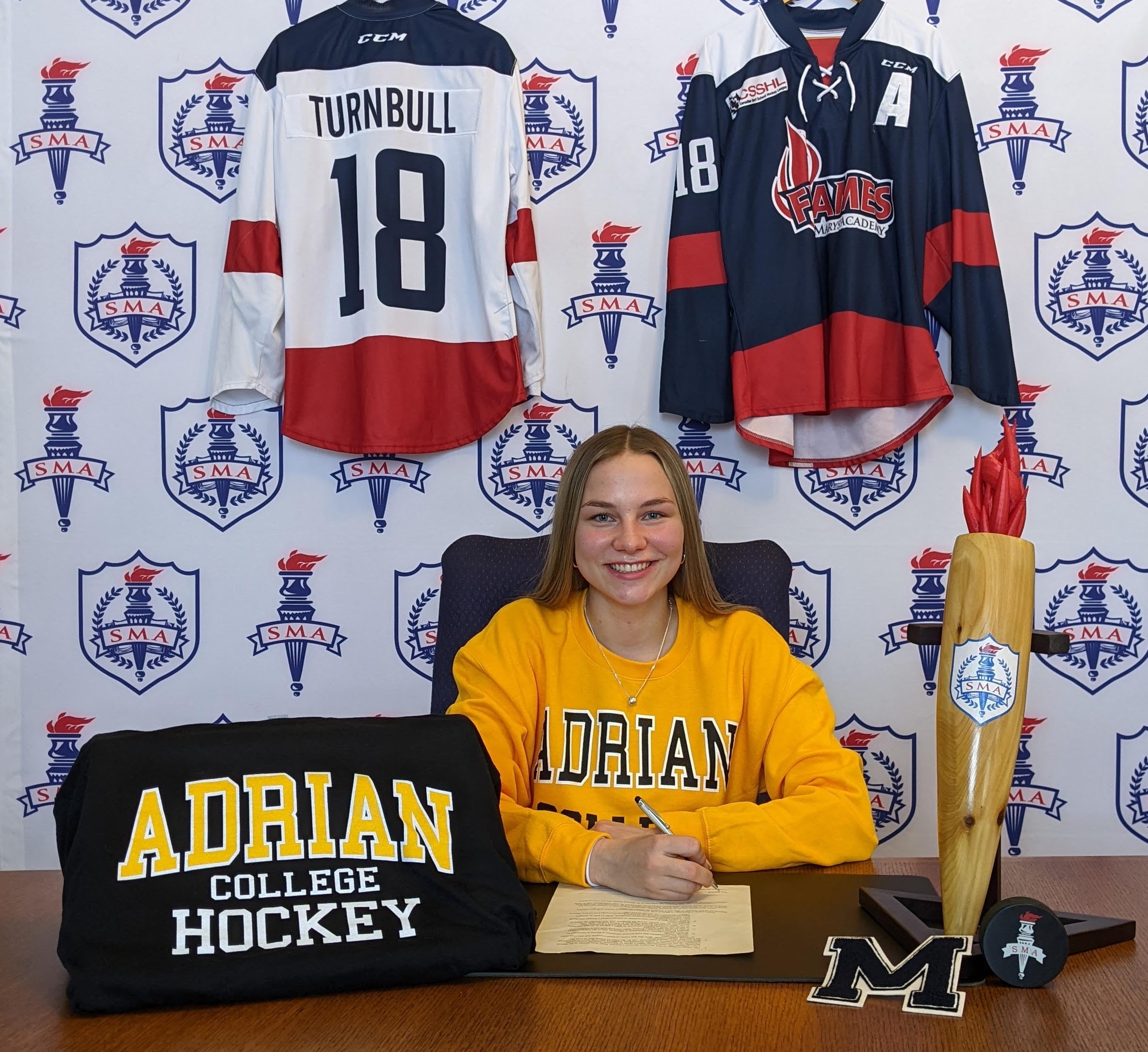 Congratulations to Tyla Turnbull (#18) who has signed with Adrian College in Michigan.
Tyla will play for the Adrian Bulldogs ACHA Div 1 Hockey program in the 2022-2023 school year.
Hold High the Torch!
March 2022
Our regular season is drawing to a close this month. We are anticipating the CSSHL championships which take place in Penticton, BC this year.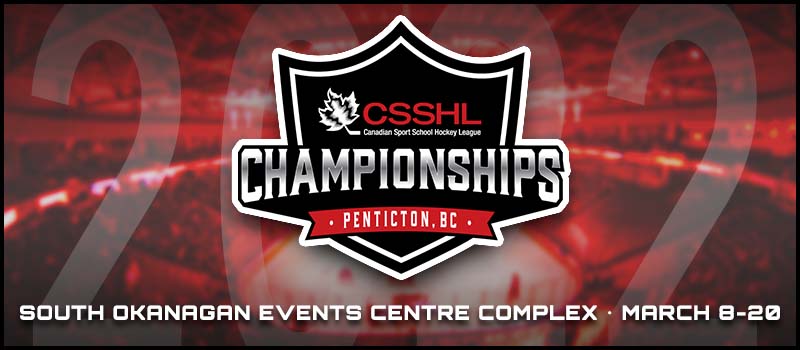 The puck drops on the Female U18 Prep Western Championships on Friday, March 11, 2022 continuing through to Tuesday, March 15, 2022 at the South Okanagan Events Centre, The
Okanagan Hockey Training Centre and Memorial Arena. If you are in the surrounding area, come and cheer on your SMA Prep Flames. Full  schedule for the championships can be found at this link: CSSHL championships schedule 2022
Viewing games from afar? Hockey TV is your go to for access to watching the games live and at long distance. 

Hold High The Torch…and GO FLAMES GO!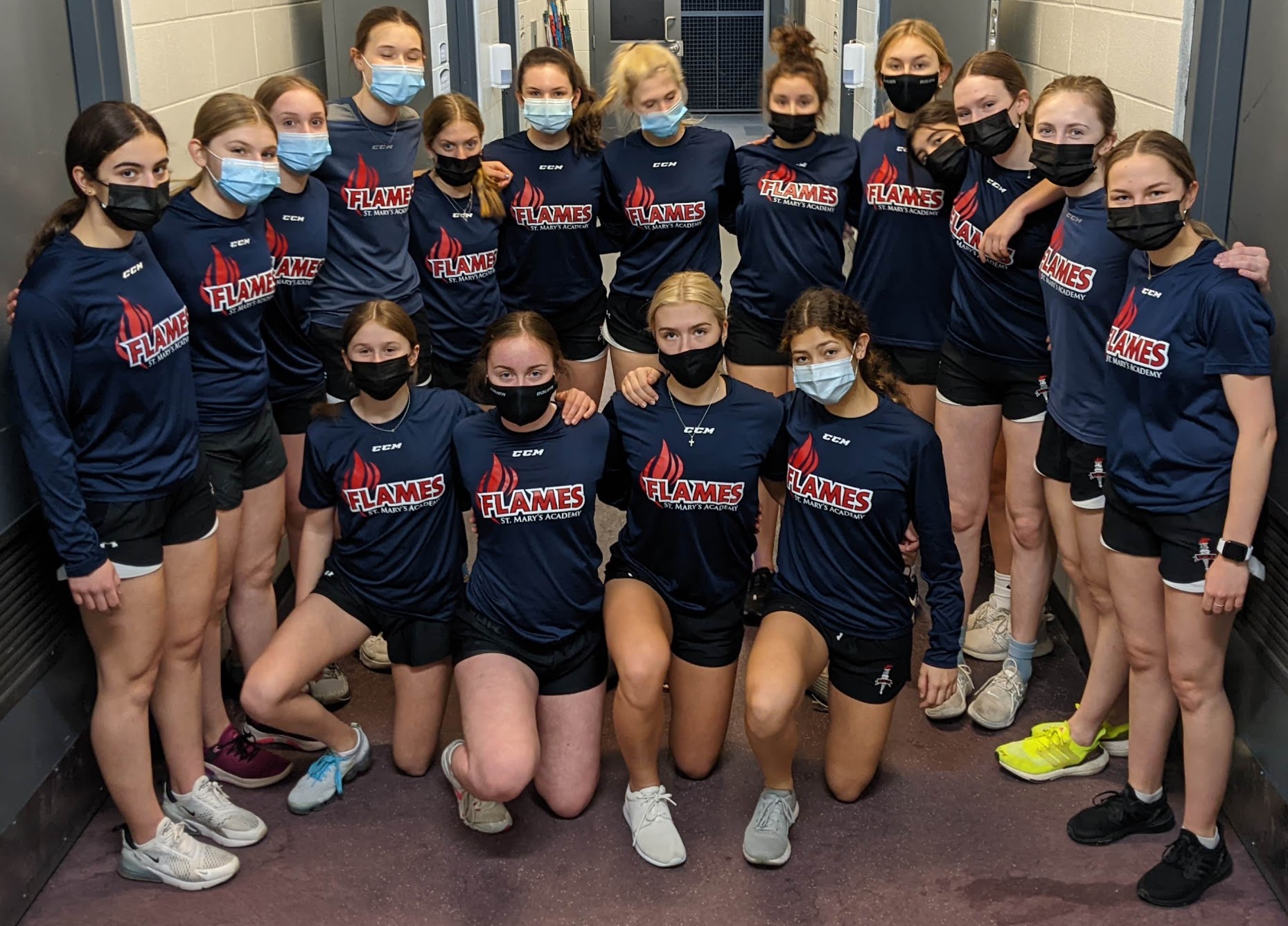 February 2022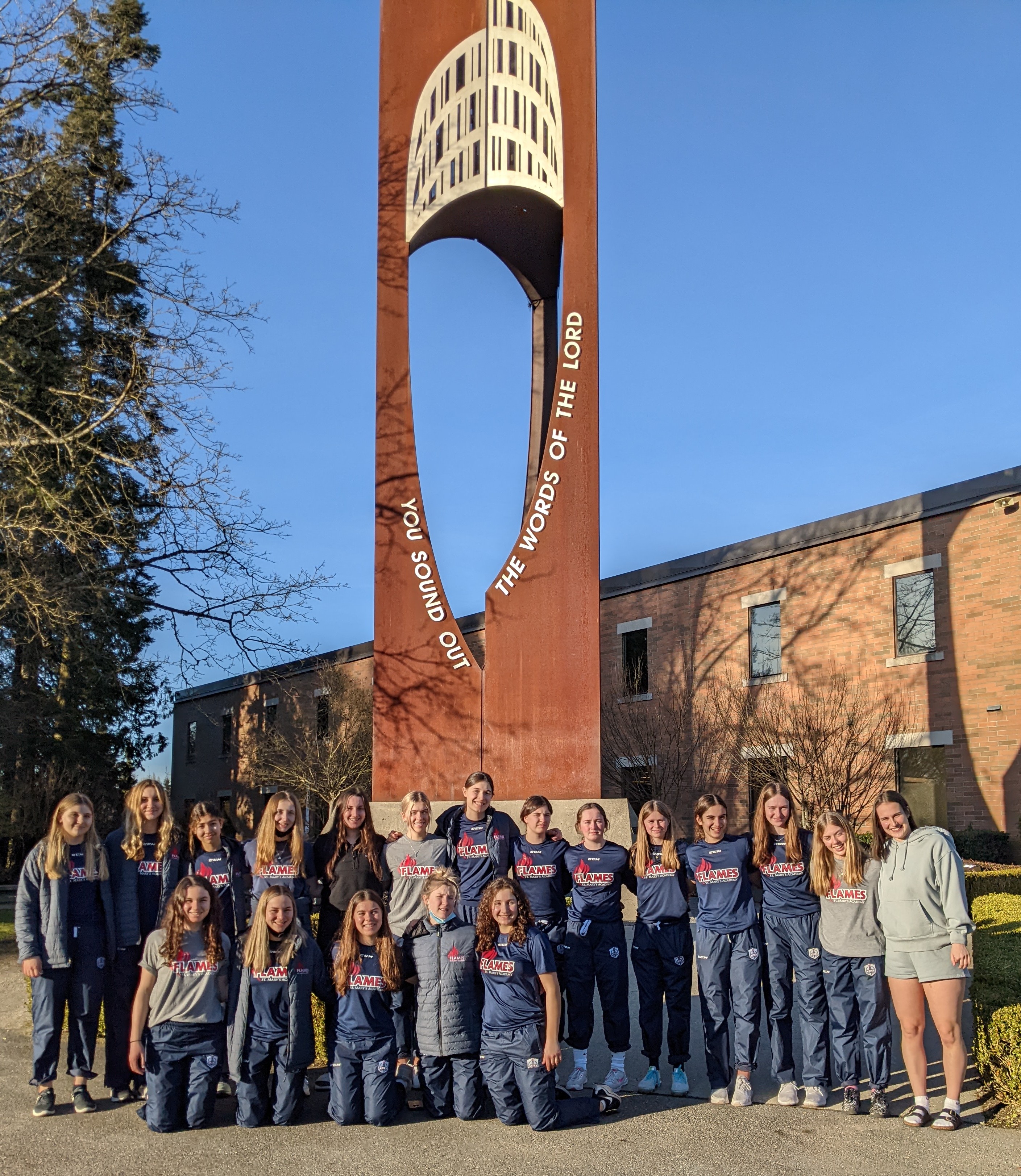 Our thanks to Prep Flames alum Kate and Lainie, who were able to host a tour of Trinity U campus for our team while we were attending our league games in Delta.
It was lovely that they were able to share their time and show the team a glimpse of post-secondary life. Thank you!
January 2022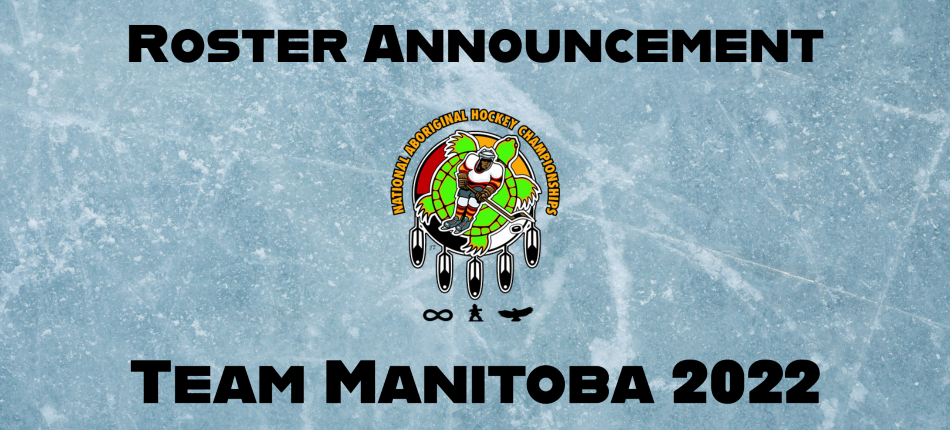 Congratulations to SMA Flames' forward Tyla Turnbull (#18) who has been named to Team Manitoba for the 2022 National Aboriginal Hockey Championships. The National Aboriginal Hockey Championship (NAHC) is an annual event that provides a forum for elite Indigenous hockey players throughout Canada. This year, the event is scheduled to be held in Membertou, Nova Scotia, May 7 – 14, 2022. Check out their website for more information: https://www.masrc.com/nahc
Holding High the Torch!
December 2021

Julia Bilous (#5, Defense) was recently interviewed by Free Press Community news columnist Troy Westwood for his December article "Aiming For Success".
Check out the story here: https://www.winnipegfreepress.com/our-communities/sports/Aiming-for-success-575873251.html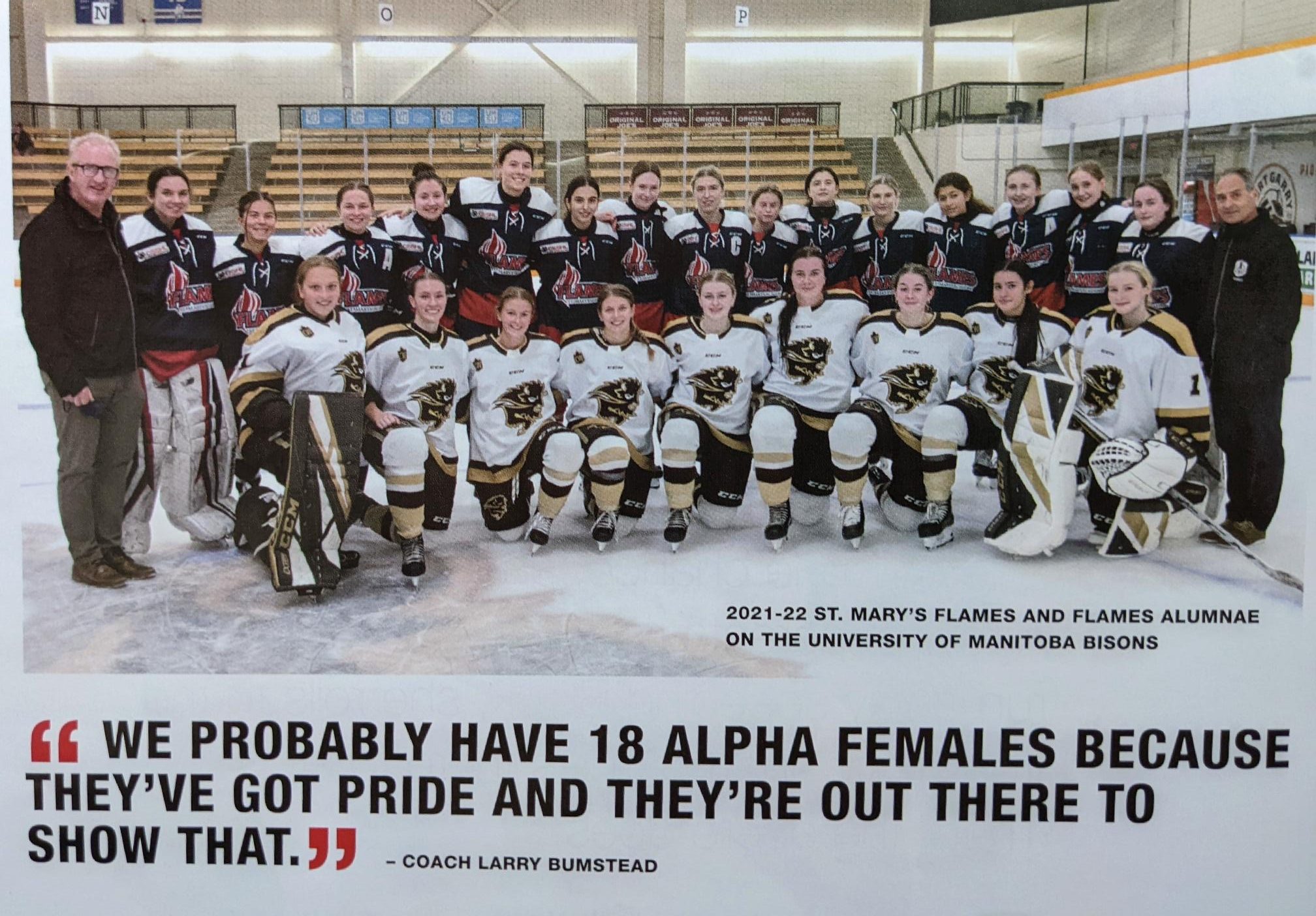 Recently, St. Mary's Academy alumna Mary Jane MacLennan wrote on article for Game On magazine. She detailed the journey of recent SMA alumnae who are now part of the U of M Bisons' hockey program.
What a wonderful opportunity to have an SMA alum craft this story of our athletes' journeys as they develop academically, athletically and personally while at St. Mary's Academy, and pursue their post-secondary paths and continue to play the sport that they love at the U sports level!
Once we have the direct link to the article, we will update this post, but in the meantime, here is the link to the digital subscription for Game On magazine.
https://gameonhockey.ca/free-subscription-game-on-magazine/magazine-digital-archives/
November, 2021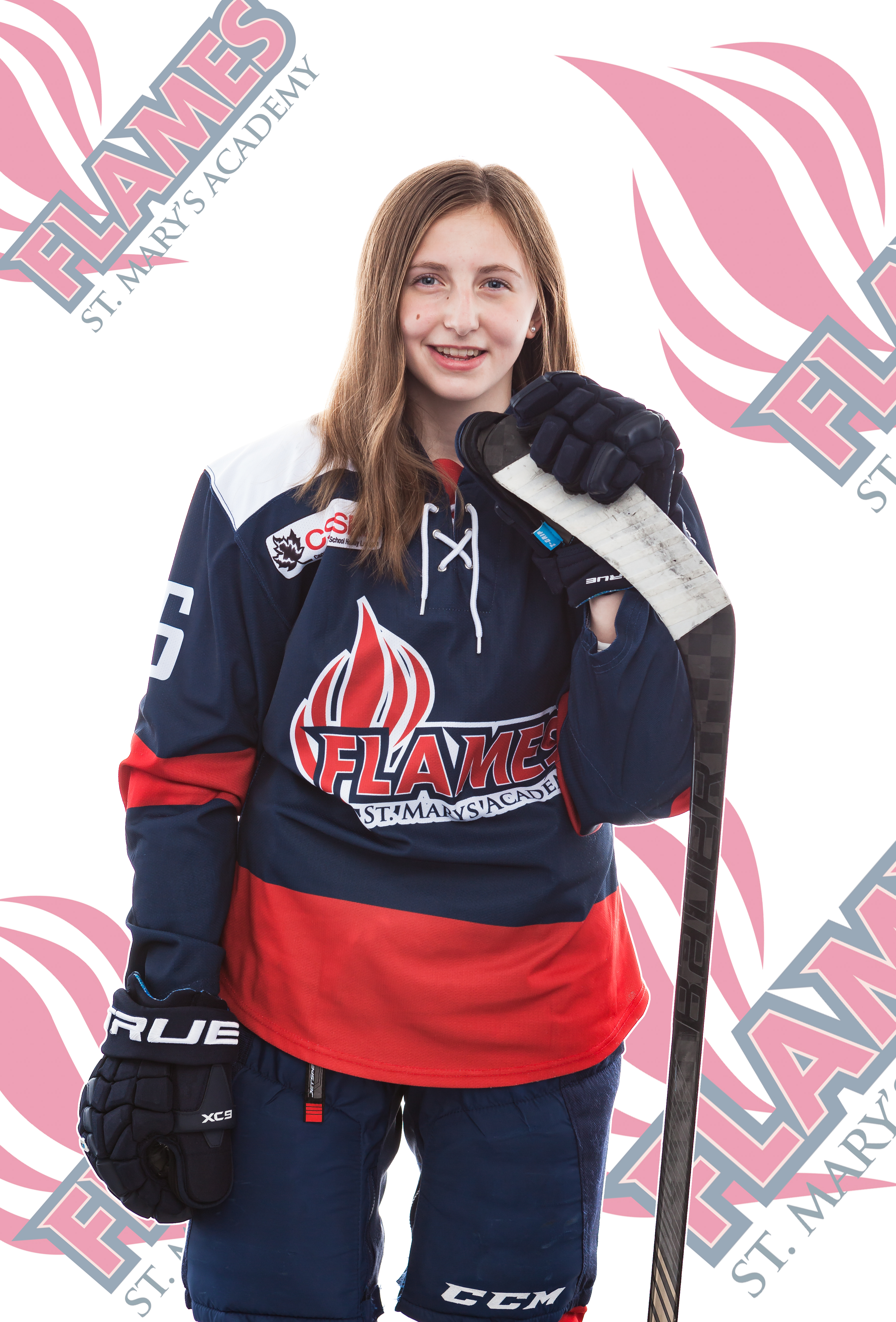 Congratulations to Reese Chuback (#16), who signed with Union College in New York.
Reese will play NCAA D1 hockey for the UC Dutchwomen next fall for the 2022-2023 school year.
Hold High the Torch!
October 30, 2021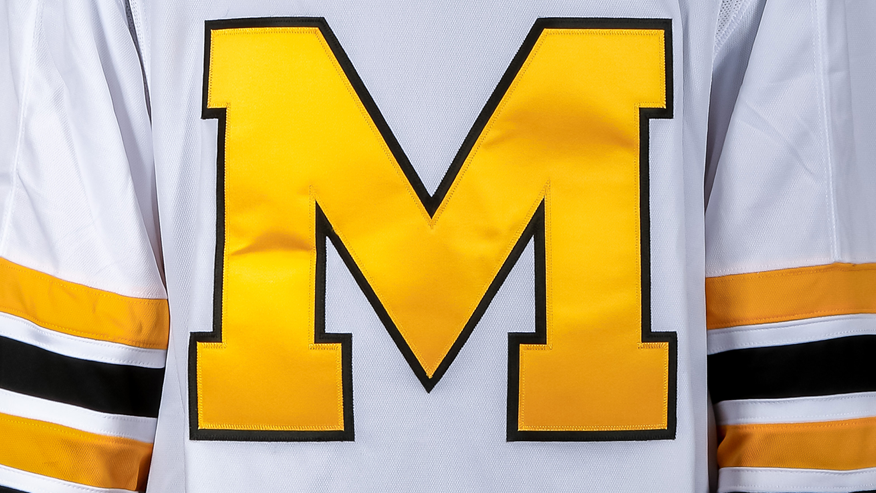 Congratulations to Flames Prep team members Presleigh Giesbrecht and Charlotte Buffie, both selected to be team members on U-18 Team Manitoba. Join us in wishing them well as they participate and compete in the Western Regional Women's U18 tournament at Stride Place in Portage La Prairie, MB the week of November 1 – 6, 2021. Hold High the Torch!
August 16, 2021

St. Mary's Academy coaches, players, staff and families want to congratulate Reese Chuback, Presleigh Giesbrecht, Tyla Turnbull and Charlotte Buffie for being selected to the Hockey Manitoba U18 Top 40 (Program of Excellence) this past weekend.  We are very proud of you!
For more information on the Program of Excellence: https://www.hockeymanitoba.ca/programs/poe/u-18/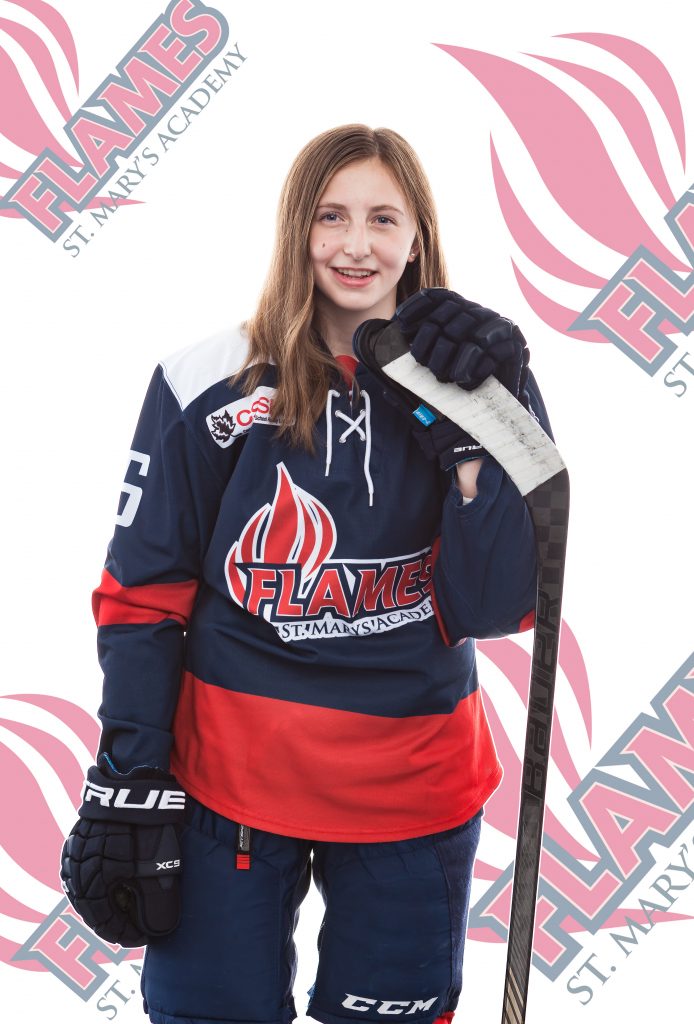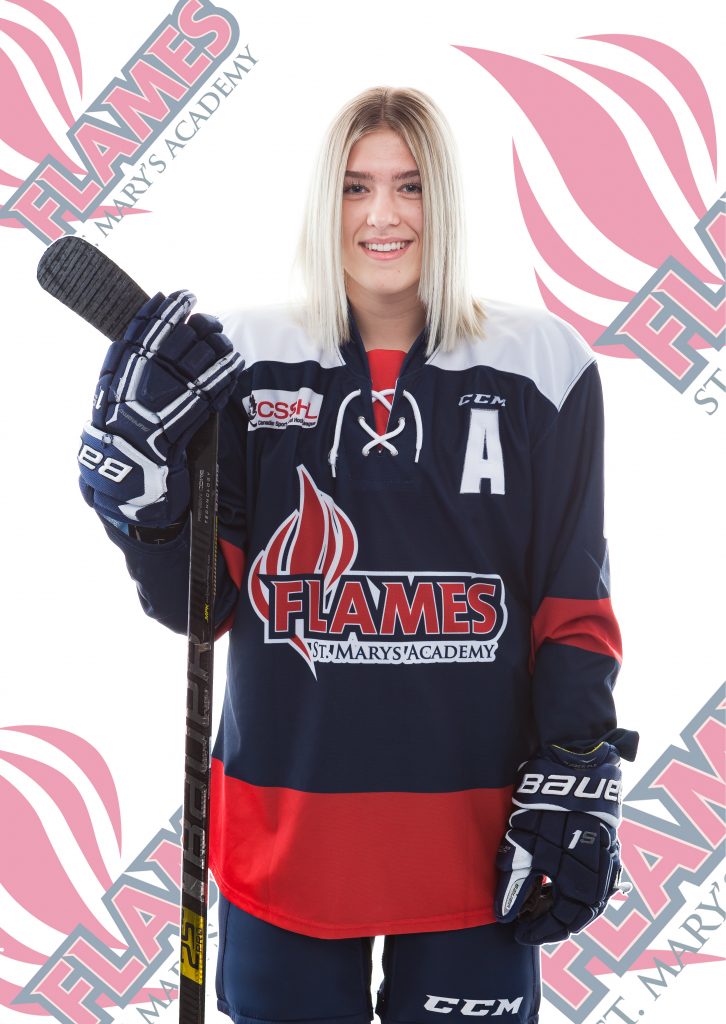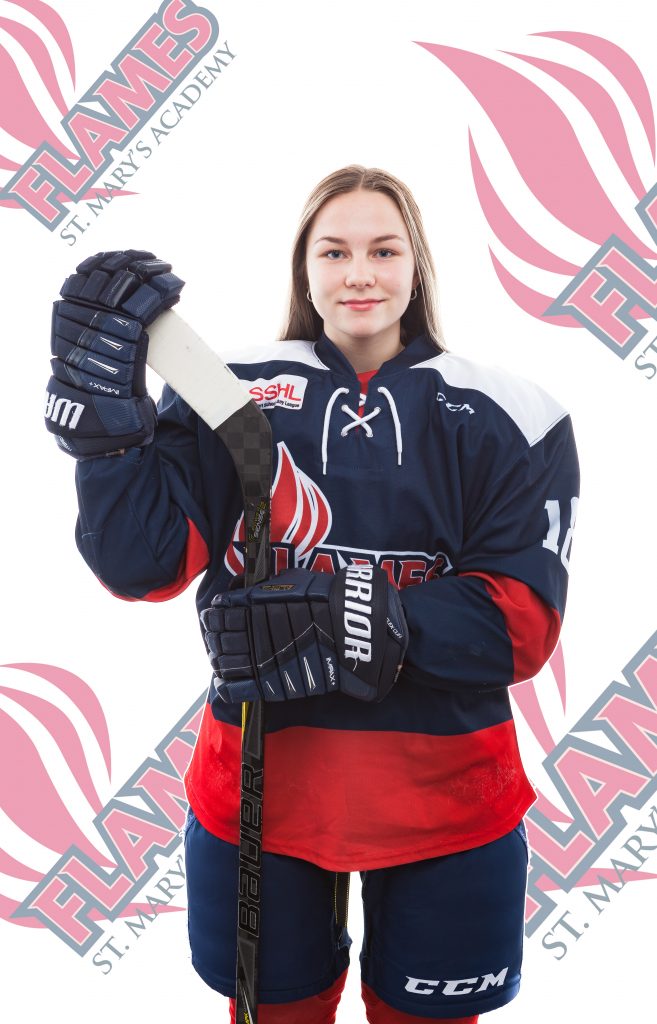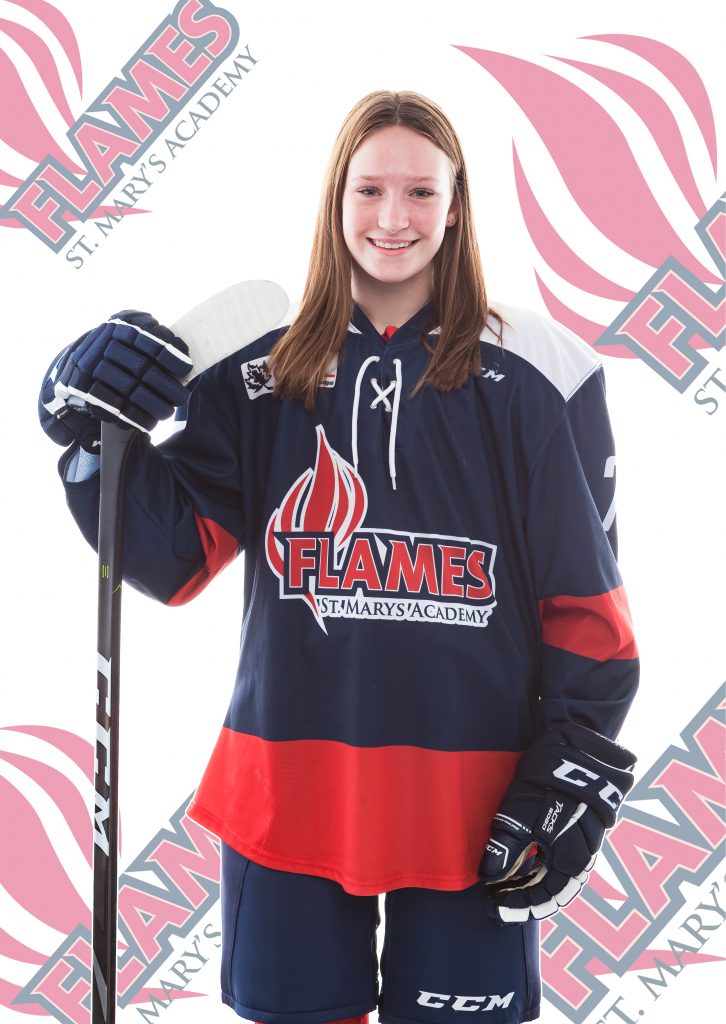 February 2021
Game On Hockey columnist, Carter Brooks, posted this article celebrating our Flames Prep team connections to u sports and the Manitoba Bisons' hockey program. Enjoy reading about the continuing paths of our players as they commit to their post-secondary pursuits of education and athletics.
https://gameonhockey.ca/2021/02/04/st-marys-prep-team-stars-choose-u-sports-and-manitoba-bisons/

This article was posted on the Hockey Blog in Canada website. While we were not able to host our Female World Sport School Challenge in 2021 (due to COVID restrictions), the article is a wonderful overview of the FWSSC and the players who have and will be transitioning to university sports and beyond.
http://hockey-blog-in-canada.blogspot.com/2021/02/the-winners-and-players.html